2001 ForeWord Magazine's
Book of the Year Awards
Silver Winner – Spiritual / Young Adult
2001 Independent Publisher
Book Awards
Finalist – Juvenile / young Adult Non-Fiction
Renowned author, teacher and spiritual leader Daisaku Ikeda, in a straightforward, no-nonsense approach, connects the timeless wisdom of Buddhism to the problems and concerns of today's youth in an engaging question-and-answer format. Based on his more than 50 years of Buddhist practice and his experience teaching millions of young people how to lead happy, healthy lives, Mr. Ikeda provides an optimistic yet grounded view of life.
The strong spiritual and philosophical messages expressed in the book are vital, appropriate and timely for American young people today. This is especially true in light of recent events that have caused parents and their children to question contemporary values and search for deeper, more meaningful answers to the questions raised by growing American problems.
The Way of Youth provides clear direction and a unique approach to an array of topics of interest to young people — from building individual character, the purpose of hard work, perseverance and education, family, friendship, tolerance and human rights to career, art and culture, preservation of the environment and world peace.
Most books addressing these concerns have come almost exclusively from the Western perspective. In The Way of Youth, Mr. Ikeda uses everyday, modern language to convey the Buddhist wisdom of Nichiren, a 13th-century Japanese Buddhist teacher and reformer who based his teachings on the Lotus Sutra. People of all faiths will identify with the universal Buddhist values discussed — how to flourish as a youth, learning to live with and respect yourself and others, contributing to a positive, free and peaceful society, and finding true happiness.
The Way of Youth is a valuable opportunity for young people and their parents to get straight answers and solutions to today's problems from a fresh Buddhist perspective.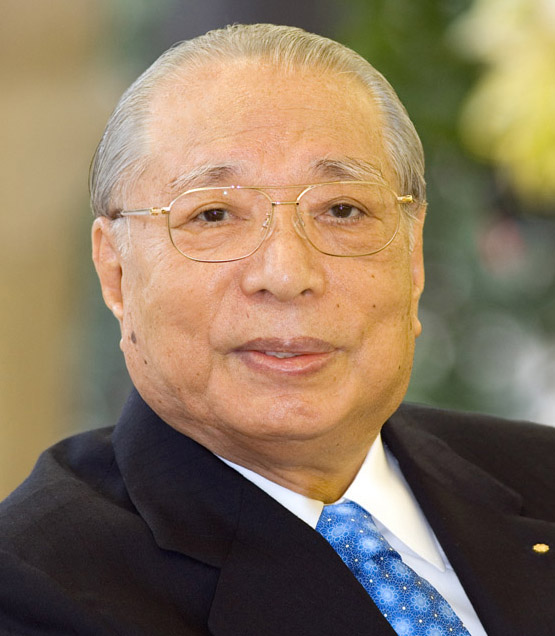 Daisaku Ikeda is the author of more than 60 books, including UNLOCKING THE MYSTERIES OF BIRTH AND DEATH, SOKA EDUCATION, FOR THE SAKE OF PEACE, and THE LIVING BUDDHA.
Daisaku Ikeda is a prolific writer, poet and peace activist, recognized as one of the leading interpreters of Buddhism, bringing its timeless wisdom to bear on the many contemporary issues confronting humanity. He is President of the Soka Gakkai International (SGI), a lay Buddhist association pursuing the values of peace, culture and education and committed to fostering within individuals a sense of responsibility for the shared global community. Today the SGI is one of the most dynamic and diverse Buddhist organizations in the world.
As president of the organization, Ikeda has traveled widely and held dialogues with leading thinkers of the world, based on his belief that dialogue is the most basic starting point for peace. He has also written extensively, with over 50 publications to his name.
Ikeda is the founder of a number of independent, secular organizations to further the pursuit of peace, culture and education. This includes the Soka school system, the Min-On Concert Association, the Institute of Oriental Philosophy, the Ikeda Center for Peace, Learning, and Dialogue, the Toda Institute for Global Peace and Policy Research and the Tokyo Fuji Art Museum.
He is the recipient of 200 honorary doctorates and numerous awards such as the recipient of the United Nations Peace Award, the Rosa Parks Humanitarian Award, and the International Tolerance Award of the Simon Wiesenthal Center.
Seasoned author and popular spiritual leader Daisaku Ikeda adeptly connects the timeless wisdom of Buddhist teachings with the concerns of modern youth in this competent self-help book aimed at the teen set… Ikeda hits the hard topics head on, a bold approach that his target audience will no doubt appreciate. – thebooxreview.com
A wonderfully accessible approach to the timeless wisdom of Buddhism and its relevance to the problems and conditions of today's young people . . . The Way of Youth is a superb contribution to Buddhist "life style" literature and is especially recommended to teenage and young adult readers.
-Midwest Book Review
Ikeda, who's worked with teens all over the world, provides some realistic, common-sense advice that will help you build confidence, find happiness, and contribute to society-no matter what creed you follow.
-Laureen Turchio, seventeen.com
His approach is practical, and although he often stresses the importance of chanting Nam-myoho-renge-kyo as a solution, it is not preachy. This is best suited to bright, intelligent teens who already have an idea where their path is heading and know that they have the ability to ask and seek.
-NAPRA Review
Respect for ourselves, for others close to us, for our world community seems to be the essence of the larger answers given on many subjects. Many Young Adults will be interested in this careful explanation of the Buddhist perspective.
-Claire Rosser, KLIATT
This book is beneficial for any youth, as the range of concerns covers many areas. Readers of this book should emerge encouraged and with their confidence lifted.
-Youth Today
The book is just wonderful. Everything a kid would want to know about. There's nothing boring or repetitive; it's very well thought out and contains a lot of meat. Mr. Ikeda obviously knows kids and through his answers gives them a way to function in the real world. It's written so a junior high or high school student could read it comfortably, but it's not childish. I'm very impressed.
— Marion Collins, Principal, Los Angeles Center for Enriched Studies
This book is an outstanding guide to humanity. I recommend it to all who desire to seek self-improvement.
— Arun Gandhi, Grandson of Mahatma Gandhi and Founding Director of the M.K. Gandhi Institute for Nonviolence
Chapter 1: FAMILY
Nagging Parents
Expressing Individuality
Too Little Money
Getting Along With Parents
Handling Advice
Too Many Restrictions
Chapter 2: FRIENDSHIP
Genuine Friendship
Choosing Good Friends
Good Friends vs. Bad Friends
Losing Friends
Handling Rejection
Peer Pressure
Keeping Friends
People You Don't Like
Dealing With Envy
Being a Loner
Advising Friends
Chapter 3: LOVE
True Love
Take Your Time
Staying True to Yourself
Addicted to Love
Protecting Yourself
Sex
Teen Pregnancy
Handling Heartbreak

Chapter 4: LEARNING
Purpose of Study
Demands on Time
Dropping Out
Importance of Grades
Getting Into a Good College
Fear of Failure
Work vs. College
No Money for College
Vocational School
Importance of Reading
Learning To Enjoy Reading
Importance of History
Truth and History
Art Transforms the Heart
Appreciating Art
Chapter 5: WORK
Choosing a Career
Finding Your Mission
Talent
The Right Job
Changing Careers
Not Working
Making Money
Working for a Cause
Chapter 6: DREAMS AND GOALS
Big Dreams
Gaining Focus
Being Smart Enough
Following Your Heart
Never Giving Up
Strengthening Your Resolve
Importance of Courage
Courage and Compassion
Chapter 7: CONFIDENCE
Maintaining Hope
True Potential
Facing Up to Problems
Bring out Your Best
Nature vs. Nurture
Changing Karma
Seeing Beyond Faults
Handling Criticism
Shyness
Self-consciousness
Viewing Others Positively
Chapter 8: COMPASSION
Concern For Others
True Kindness
Helping Courageously
Showing You Care
Touching People's Lives
Facing Insensitivity
Stopping Bullies
Dealing With Violence
Violence Toward Women
Chapter 9: THE BIGGER PICTURE
Understanding Equality
Courage Is the Key
Human Rights
World Citizenship
Getting Started
Friendship and Peace
Environmental Concerns
Practicing Environmental Protection
Role of the Individual
Genuine Friendship
How can I tell who my real friends are?
First, it is a good idea to consider what friendship is. True friendship is a relationship where you empathize with your friends when they are suffering and encourage them not to lose heart. And they, in turn, do the same for you.
Friendship often begins simply by liking someone because he or she spends a lot of time with you or, perhaps, helps you with your homework. You may start by liking someone who is nice to you and with whom you get along well and have a lot in common. While friendships may begin spontaneously and develop by themselves, deep friendships are supported by a spirit to grow and advance. Between you and your friends there must be a commitment to always be there to encourage and help one another as you work toward your respective goals in life.
To have some ambition, such as graduating from a university or making a meaningful contribution to society, is important. Those who lack a clear, positive purpose or direction in life tend to have friendships that lead nowhere or are based on dependency. In some cases, these types of friendships actually encourage destructive behavior. But friendships among people who cheerfully encourage one another while striving to realize their dreams are the kind that deepen and endure.
Character and integrity are indispensable for making friends. True friendship is unconcerned with social status or rank. You can make real friends only when you open up, when you share with others what's in your heart. A selfish, egotistical person cannot make true friends.
The tie that links one person's heart to another is sincerity. For adults, self-interest or personal gain often comes into play, and fleeting friendships are formed as the result of temporary circumstance. But friendships made in one's youth are generally free of artificiality. Nothing is more wonderful or precious than the true friendships formed when you are young.
Your friends from junior high and high school, even elementary school, are like your fellow actors, appearing in the same play with you on the stage of life. Some you may never forget for the rest of your life.
Such friendships flow as beautifully as a pure, fresh stream. The clear and unspoiled currents of two people converge in sincerity, moving positively toward their respective dreams. Struggling and growing together, they share each other's hardships, always encouraging and supporting each other, creating an even broader, deeper and purer river of friendship. The beauty and clarity of this river will inspire all who see it to want to drink from its waters, too.
Friendship is true wealth. There have been many famous sayings about it throughout the ages, such as Cicero's "Friendship is closer than kinship" and "A life without friendship is like a world without sunshine" and Aristotle's "A friend is like another self." No matter how much status or wealth people may gain, those without friends are indeed sad and lonely. A life without friendship leads to an unbalanced, self-centered existence.
Choosing Good Friends
I want to have good friends in my life. What do you suggest?

You are wise to understand the importance of friendship. You probably have many different kinds of friends – friends who live in the same neighborhood and with whom you go to school every day; friends in the same class; friends in extracurricular activities; friends with whom you just hang out. Sometimes, too, friendship starts out as a casual thing, with two people just sitting around talking. Then one day something happens that inspires them both to try to achieve some goal. They then become good friends who positively influence each other. The best friends to have are those with whom you can advance together toward a shared goal. While we can't choose our family, we can choose our friends. And it's an important choice. I often hear, "School is fun because I have friends there." Others lament, "I have friends, but I don't have any close enough to speak with heart to heart."
You were born into this vast universe on the tiny planet Earth and in the same era as the people around you. Yet it is extremely rare to find, among the billions of people on this planet, genuine, unconditional friends with whom you can totally be yourself, who will understand your thoughts and feelings even without words.
Among your fellow students, I'm sure most of you have at least one or two whom you regard as true friends — please treasure them. But if you feel that you don't have any close friends right now, don't worry. Just tell yourself that you will have wonderful friends in the future. Concentrate your energies now on becoming a fine individual who is considerate, who does not speak badly of others, and who does not go back on your word. I'm sure that in the future you will have many friends, perhaps all over the world.
In any event, it's important to understand that friendship depends on you, not on the other person. It all comes down to your attitude, what you are willing to contribute to the relationship. I hope you will not be a fair-weather friend, helping others only when circumstances are good and leaving them high and dry when problems occur; instead, strive to become a person who sticks by friends no matter what. You can prepare your life for great friendships by what you do today. There are things you can do to become the kind of great friend you hope to have. For example, when you notice someone is worried about something, offer a kind word: "You look down. What's wrong?" Treat others' problems as your own and try to help. This kind of strong resolve is important.
And if someone should betray your trust, vow to yourself that you'll never do the same thing to anyone else. When you make a promise, always keep it, no matter what. If you make an effort to be that kind of person, you'll soon come to find yourself surrounded by good friends.
Good Friends vs. Bad Friends
My parents don't approve of the friends I hang out with.

Parents who worry about the friends you keep are truly concerned about your welfare. The same can be said of teachers. They're not just trying to give you a hard time.
Your friends, at times, can have a stronger influence over you than your parents or anyone else. So if you make good friends — friends who are interested in improving and developing themselves — you can move in a positive direction as well. Associating with self-destructive people, however, can have harmful consequences, dragging you down with them. Please have the courage not to give in to negative influences and to move away from those who cause you to behave in a way in which you are not comfortable.
Buddhism teaches that we should associate with good companions, meaning that we should be careful to choose good people as our friends and role models. It also instructs that we should distance ourselves from bad company. A relationship based on selfish motives or spoiled by hassles over money cannot be considered a good friendship. Similarly, a relationship with someone who engages in delinquent behavior, who doesn't know right from wrong, is clearly a bad friendship. A real friend will not demand money from you or encourage you to do things that are wrong. That is evil disguised as friendship. You must speak out against it and avoid getting involved. Don't prolong an association with bad friends. It's perfectly all right to walk away from such company. Discuss your situation with someone you trust. Don't just worry silently over it by yourself.
A Buddhist scripture states that even a good person who associates with evil people will likely be tainted by that evil, therefore we should be strict with ourselves about pointing out wrong and destructive behavior. And by pointing out to others that their actions are inflicting suffering and pain, we can urge them to move in a more positive direction. In fact, our honesty can open the way to forging deep bonds of genuine friendship with that person. In other words, it's quite possible for a "bad" friend to become a good friend.
Bad companions are those who cause people trouble and grief. Good friends, in contrast, are those who warmly encourage others, giving them hope and inspiring them to self-improvement. True friendship contributes to our growth as people and the creation of positive value in our lives. We cannot say the same of associating with bad influences, where the only result is stagnation and negativity — that is just hanging out together, not friendship. As a well-known saying goes, "You can judge a person by the company he (or she) keeps."
Ultimately, the only way to make good friends is for you to become a good friend yourself by maintaining your integrity. Good people gather around other good people.
Losing Friends
What do you do when a friend suddenly doesn't want to talk to you anymore?

Young people's hearts are like sensitive thermometers. One minute you feel everything is great, and the next you suddenly feel so down you're convinced you must be the most worthless person in the world. You may also be overwhelmed by great sadness and despair because of problems with friends, heartache over love or the illness of family members. I assure you it is completely natural to experience such extremes of emotion and self-doubt while young, so you needn't compound your sadness by worrying that you feel that way. Rest assured that whatever your hardships, you will someday look back on them and they will all seem like a dream.
That said, it is important to recognize that as you go through such situations, the same is usually true for your friends. Therefore, the best thing to do is to have the courage to ask the friend who seems to be shunning you what's bothering her (or him). You will very likely find that the last thing she wanted to do was treat you coldly, and that in reality, while you neglected to find out what was wrong with her for fear of being hurt, she, too, was feeling rejected and lonely.
Human relationships are like a mirror. If you're thinking, "If only so-and-so were a little nicer to me, I could talk to him about how I feel," that person is probably thinking the same thing.
While it takes a bit of courage to make the initial attempt, a good plan would be to make the first move to open channels of communication. If, despite these efforts, you are still rebuffed, then the person you should feel sorry for is your friend.
We cannot read what's in another's heart; the human heart is much too complex. People change — it's as simple as that. If your friend shares the same feelings about the friendship as you do, then it is likely to last a long time. But if he or she decides to opt out, then it will be short-lived. You yourself may unintentionally let a friend down, causing a rift in your relationship. My advice is that you hold fast to your identity regardless of how others may appear to change.
If you are snubbed or let down by others, have the strength of character to vow that you will never do the same to anyone else. Though they usually do not realize it, those who betray others' trust are only hurting themselves. Those who intentionally hurt their friends are truly pathetic; it's as though they are driving a spike through their own hearts.
Character and integrity are very important. Mutual respect and trust are crucial for creating real friendship. Naturally, there will be times when you have arguments and disagreements with your friends. But there should always be an underlying spirit of respect and consideration for each other. In friendship, we mustn't think only of ourselves.
In any event, should a friendship end, there's no need to grow despondent. You don't have to beat yourself up, thinking every friendship must last forever. The important thing is that you remember the true meaning of friendship and that you make that true meaning the basis for your interactions with others.
If one friend lets you down, don't stop trusting people; go and make a new friend. If you don't trust anyone, you might avoid being hurt or let down, but you'll find yourself leading a lonely existence locked up in your shell. The fact is, only someone who has experienced pain and hardship can empathize with others and treat them with kindness. The essential thing to do, therefore, is to become strong.
Handling Rejection
What about when a whole group of friends gives you the cold shoulder?

Allow me to share the following story of a young woman, a high school student, who practices Nichiren Buddhism. At school, Mikki was part of a close-knit group of seven. As the girls spent more and more time together, they became increasingly aware of one another's strengths and shortcomings and gradually began to gossip about any member who wasn't present. Mikki did not take part in these gossip sessions and tried to persuade them to stop. But the other six used her refusal to participate as an excuse to turn on her.
In class, they gave Mikki cold looks. They handed her nasty notes. If they happened to touch her accidentally, they would scream as if in horror and run away. Each day was agony. With each indignity inflicted on her, Mikki felt as if her heart was being torn out. In her free time, she'd hide in the girls' bathroom to avoid further humiliation. Finding no peer she could trust, Mikki finally confided to her mother about her problems at school. Her mother encouraged her to use this trying period to develop her own inner foundation through her faith. Mikki realized that as she chanted Nam-myoho-renge-kyo, she began to feel stronger and happier. And though she still frequently experienced torment at school, it was affecting her less. She began to view her suffering as fuel, as the perfect motivation to become solid and happy within herself.
Mikki continued to chant each day with the feeling, "I won't be defeated! I will become strong!" Going to school became steadily less of a problem. Based on her newfound strength, she decided to take positive action to change her situation. She made new friends and, in the end, she even changed her relationship with the members of the original group that had shunned her. Mikki says that she actually feels grateful to them, because they inspired her to become stronger and more independent. The secret, she says, to getting others to change is to become a stronger person yourself.
Handling Rejection
Sometimes when I try to make new friends, it's like I'm not cool enough for them, and I'm left on the outside looking in.

Although it may seem difficult, if you are ignored, rejected or made fun of, try not to be overly worried about it. According to Buddhist beliefs, those who treat others poorly make bad causes for which they unfortunately will experience the effects; they are truly to be pitied.
At the same time, remember that experiencing rejection and disappointment is an inevitable part of life. Nichiren, whose teachings we in the Soka Gakkai International follow, was also abandoned by many of his followers. I, too, have been betrayed by people whom I trusted and sincerely tried to encourage. But that is something I have learned is inevitable at times.
In the face of rejection, you must learn to be courageous. It is important to believe in yourself. Be like the sun, which shines on serenely even though not all the heavenly bodies reflect back its light and even though some of its brilliance seems to radiate only into empty space. While those who reject your friendship may sometimes fade out of your life, the more you shine your light, the more brilliant your life will become. No matter what other people do, it is important that you walk your own path, believing in yourself. If you stay true to yourself, others will definitely come to understand your sincere intent.
Peer Pressure
There's a lot of peer pressure among my school friends to drink and smoke marijuana.

I can understand the feelings of young people when they sometimes want to take drugs or drink to be part of the group. But drinking alcohol or taking drugs in your teens is not an adventure that will contribute constructively to your life. And having free access to these things doesn't foster your freedom as a human being, as so many young people believe. If your friends drink and take drugs, look for a new group of friends.
Drinking or taking drugs is actually a trap, and once you are ensnared in that trap, your true independence is stripped from you. You become bound by your emotions and your cravings for more of those substances. Those who become victims of their own natures and cravings are, strictly speaking, no different from beasts.
In 1275, referring to a teaching from thousands of years earlier, Nichiren offered this timeless advice to a follower: "Become the master of your mind rather than letting your mind master you."
Essentially, substance abuse can be pegged to one underlying condition — a lack of foresight and determination toward the future. So many youth have been robbed of the chance to fulfill their great potential because they did not maintain a focus on their goals. Pursuing fun in the moment led them to ruin. I believe you may be familiar with many famous examples, such as the superstar college basketball player who was drafted by the Boston Celtics. Expectations of him were so high, it seemed his presence would guarantee a championship team. Sadly, just before the beginning of his first season — before he even got a chance to play in his first pro game — he went to a party, overdosed on cocaine and died. A tragic waste.
In so many ways, what separates those who go on to lead happy, fulfilling and successful lives from those who do not are the choices they make during this crucial period. Those who choose to keep their dreams in sight weigh the importance of achieving those dreams against the momentary "coolness" of surrendering to drinking and drugs and find such immediate gratification not worth the expense.
Some people may believe that drugs enhance their concentration. But I have to say that no matter how brilliant it may seem, anything drug-induced is not the product of your true ability.
The most attractive person is one who can continue to make steady efforts to fulfill his or her dream even if others do not recognize their dedication. A person of self-control is a truly cool person. Continuing to challenge your goals is vital.
While it is socially acceptable for those of legal drinking age to enjoy alcohol in moderation, it is important to understand that the trap of addiction does not simply go away when you reach twenty-one. If that were the case, obviously, alcoholism would not be such a global tragedy among adults. Again, I cannot stress too strongly the need to establish your dreams in your youth and hold them firmly in sight. They will be the best gauge for measuring all your actions.
Keeping Friends
I enjoy the friends I have. How can I keep them as time goes on?

While we would prefer our friendships to continue, our focus is better spent, I believe, on developing the quality of those relationships. Toward that end we can classify friendships into three groups according to their depth.
The first level is composed of people who get along with one another in the course of their day-to-day activities and seek to enjoy their lives together. These are friendships based on having a good time together.
The second level of friendship is a little more advanced. These friends have their own goals; they each have a clear vision of the kind of person they want to become, the kind of future they want to build, the kind of contribution they wish to make to humanity. They encourage and support one another as they each work to realize their own dreams and make something of themselves in the world. This is a friendship of mutual encouragement. I have heard from many high school students about that kind of friendship: "We worked together and built an incredible display for the science fair," "Before every test, we study together," "As members of the swim team, we all challenged ourselves to swim six miles, and all of us did it! It's something I'm never going to forget."
Many, many students have recognized that they are not alone, and knowing that has given them the strength to overcome tough challenges. They have come to appreciate mutual encouragement and support.
The third level of friendship is the bond of comrades who share the same ideals, who dedicate their lives to a common cause. Many people who have achieved great things in history have had this kind of friendship, which demands absolute trust. True comrades never betray one another, not even under the threat of death. They never betray themselves, their friends or their ideals.
I hope you enjoy the time you spend with your peers without worrying about how long your friendship will last. Deep friendships are rare. Cultivating them is like growing a mighty tree — a different process than that for growing shrubs.
If you remain sincere in your interactions with others, you will one day find yourself surrounded by good friends. And among those people, your friendships will be as strong and unshakable as towering trees. Don't be impatient. Work first on developing yourself, and you can rest assured that an infinite number of wonderful encounters await you in the future.
People You Don't Like
What do I do about the people I just can't get along with?

Just as there are some foods you find distasteful, having people in your environment whom you dislike is an unavoidable part of life. While there's nothing wrong with not particularly liking certain people, it is wrong to put them down or behave in a hostile way toward them. They have the same right to exist as you do and to have their own opinions and ways of doing things. It's important to cultivate a broad-minded outlook. Also, Buddhism teaches the interrelatedness of all people and things, and how we treat others will affect our own lives — so it is important to be respectful in our behavior both for others' sake as well as for our own.
Dealing With Envy
I strive to get good grades, but often my friends make me feel bad about my achievements.

Always be proud of your hard work! Outstanding people are bound to encounter envy and resentment, so don't worry — that's life. A philosopher once said: "We live in a world where even if one has impeccable character, he or she will inevitably be slandered and criticized." Of course, I am not suggesting that you go around boasting to everyone about your good grades, either.
When I was in elementary school, one student from an affluent family was always well dressed and seemed so happy. I remember feeling jealous of him, and I wasn't alone. Today, out of such jealously, that student would almost certainly be picked on by his classmates. But those who take action based on such feelings are driven by a base condition of life, what Buddhism terms animality. The brilliance of true humanity, on the other hand, lies in surmounting feelings of envy with the resolute attitude, "I'll create an even more wonderful life for myself." If you are jealous of others, you will not advance; you will only become miserable. Rather than being so easily defeated by your emotions, I hope you can embrace others with warmth and understanding.
Being A Loner
What if I like being by myself more than being in a group?

Of course, you're free to enjoy your own company if you wish. It's perfectly all right to make friends in your own way, with people whose thoughts and feelings you share. Sometimes our relations with others can get so difficult that we want to shout, "I wish I could live where there are no other people!" But unless we become hermits, that's impossible. It's important that we work to become individuals who can cultivate good relations with others.
In Japanese, we write the word for "human being" with the characters meaning "person" and "between," expressing the idea that human beings are complete only in relationship to other people. None of us can live alone. Because of that, experiencing relationship problems of some sort is an inevitable part of human life.
Relationship problems are opportunities to grow and mature. Such problems can be character building if you don't let them defeat you. That's why it's important not to isolate yourself. No one can exist apart from others. Remaining aloof from others cultivates selfishness, which accomplishes nothing.
Having close friends can be tremendously rewarding. There's a Mongolian proverb, "A hundred friends are more precious than a hundred pieces of gold." People who have friends are rich. Quite often, the encouragement and stimulation of friends spur us toward self-improvement. We are inspired to lead fulfilling lives and create a better world. We also work together with our friends toward that goal.
Having good friends is like being equipped with a powerful auxiliary engine. When we encounter a steep hill or an obstacle, we can encourage one another and find the strength to keep pressing forward vigorously.
Advising Friends
I know people who do some really bad things, but when I try to talk to them about it, they don't take me seriously.

The only way you can influence your peers is to establish genuine friendships with them one by one.
Listen attentively to what they have to say, but also clearly tell them when their ideas are wrong and admonish them not to ruin their lives through their actions. Develop the type of friendship in which you can say what needs to be said.
Nichiren teaches that if we befriend someone but lack the mercy to correct that person, we are in fact his or her enemy. How you convey your message to someone moving in the wrong direction is a matter of wisdom. Through serious contemplation based on your deep desire to help your friend, and through candid discussion with someone you trust — like a teacher or parent — you can find an upsurge of courage from within. This is what's behind the Buddhist chant of Nam-myoho-renge-kyo — it allows us to tap our inner wisdom and courage so that we can become the kind of people who truly care about and positively influence our friends.
As long as you genuinely care about others, your heart will definitely reach them some day. Even if someone breaks off with you for a while because of what you have said or done, the fact that you showed your sincerity will be etched in the depths of his or her life. The seed you plant in your friend's life will one day sprout in the form of a new and positive awareness that can propel that friend forward.